The process to obtain your Part 107 Drone License in 2021 is fairly simple. The FAA website provides some detail on what steps to take but doesn't supply you with the additional steps or suggestions for what or where to study for the exam.
This post will help guide you through what steps to take in order, what to study from what sources helped me pass my exam and obtain my license.
Become a Drone Pilot
In order to fly your drone under the FAA's Small UAS Rule (Part 107), you must obtain a Remote Pilot Certificate from the FAA. This certificate demonstrates that you understand the regulations, operating requirements, and procedures for safely flying drones.
Are you a first-time pilot or an existing Part 61 Certificate holder?
Do you need to keep your Remote Pilot Certificate current?
First-Time Pilots
Eligibility
To become a pilot you must:
Be at least 16 years old
Be able to read, speak, write, and understand English
Be in a physical and mental condition to safely fly a drone
Pass the initial aeronautical knowledge exam
Requirements for Remote Pilot Certificate:
Must be easily accessible by the remote pilot during all UAS operations
Valid for 2 years. Certificate holders must pass a recurrent knowledge test every two years
Navigating the Process to Become a Drone Pilot:
Table of Contents
Step 1: Study for Your Exam
Step 2: Obtain an FAA Tracking Number (FTN)
Step 3: Schedule An Appointment With A Knowledge Testing Center
Step 4: Pass the Initial Aeronautical Knowledge Test
Step 5: Complete FAA Form 8710-13
Step 6: Confirmation from FAA
Step 7: Receive A Permanent Remote Pilot License
Step 8: Register Your Drone with the FAA
Step 9: Carry Your Documents At All Times
Step 10: Have Fun Flying & Creating Content!
Step 1: Study, study, study!
I recommend studying Tony Northup's FREE comprehensive study guide for the FAA Part 107 sUAS Drone Certification. Get the study guide at http://sdp.io/107​ See Tony's other drone videos at http://sdp.io/drone​. Before you go out and schedule an exam, you need to study and know what is going to be on this test. Tony Northup's video is very thorough, and easy to understand covering everything that the exam will throw at you. Below are a few videos that helped me study.
Step 2: Obtain an FAA Tracking Number (FTN)
by creating an Integrated Airman Certification and Rating Application (IACRA) profile prior to registering for a knowledge test.
Which administer initial and recurrent FAA knowledge exams. Be sure to bring a government-issued photo ID to your test. After you've studied and your confident in your knowledge, now is the time to schedule your exam.
Then follow the prompts to schedule your exam.
Step 4: Pass the initial aeronautical knowledge test.
Knowledge test topic areas include:
Applicable regulations relating to small unmanned aircraft system rating privileges, limitations, and flight operation
Airspace classification and operating requirements, and flight restrictions affecting small unmanned aircraft operation
Aviation weather sources and effects of weather on small unmanned aircraft performance
Small unmanned aircraft loading and performance
Emergency procedures
Crew resource management
Radio communication procedures
Determining the performance of small unmanned aircraft
Physiological effects of drugs and alcohol
Aeronautical decision-making and judgment
Airport operations
Maintenance and preflight inspection procedures
Step 5: Complete FAA Form 8710-13
For a remote pilot certificate (FAA Airman Certificate and/or Rating Application) using the electronic FAA Integrated Airman Certificate and/or Rating Application system (IACRA)*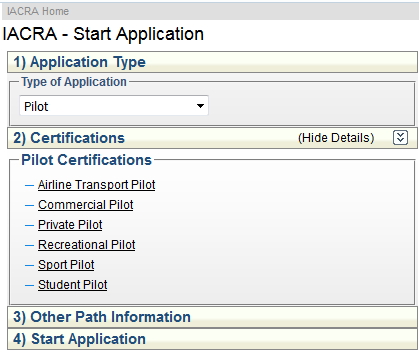 Register using the FAA IACRA system
Login with username and password
Click on "Start New Application" and 1) Application Type "Pilot", 2) Certifications "Remote Pilot", 3) Other Path Information, 4) Start Application
Follow application prompts
When prompted, enter the 17-digit Knowledge Test Exam ID (Note: it may take up to 48 hours from the test date for the knowledge test to appear in IACRA)
Sign the application electronically and submit for processing.
Step 6: A confirmation email
This will be sent when an applicant has completed the TSA security background check. This email will provide instructions for printing a copy of the temporary remote pilot certificate from IACRA.
Step 7: Receive A Remote Pilot Certificate
This will be sent via mail once all other FAA-internal processing is complete.
Step 8: Register Your Drone with the FAA.
Now that you have your license, you'll need to register your drone or your fleet of drones with the FAA. It costs $5 to register the drone and you'll want to keep this with your license at all times when you fly. Now if you're a hobbyist flying your drone around, you'll still need to register it with the FAA.
Step 9: Have your Remote Pilot Certificate available whenever you fly your UAS.
The FAA is stepping up their policing of drone pilots. This is largely due to bystanders reporting them. Here are 7 things you can do to help mitigate a surprise letter in the mail, containing an unreasonably egregious fine.
LAANC Approval Process (Last updated 2019): https://youtu.be/-VKOTQj8Sys​
For all of the rules: faadronezone.faa.gov
Step 10: Have Fun Flying & Creating Content!
Keep Your Remote Pilot Certificate Current
It is important for all pilots, including Certified Remote Pilots, to keep their aviation knowledge up to date. If you have a Remote Pilot Certificate, you are required to have completed one of the following within the previous 24 calendar months to operate UAS under part 107:
Pass the initial (Unmanned Aircraft General or UAG) or recurrent (Unmanned General Recurrent or UGR) knowledge test. You must be able to show a copy of your initial or recurrent knowledge test report if requested by the FAA as proof of currency.
If you hold a part 61 pilot certificate and have a current part 61.56 flight review, complete the Part 107 Small Unmanned Aircraft Systems (small UAS) Recurrent online training course. You must be able to show a copy of your recurrent Certificate of Achievement if requested by the FAA as proof of currency.
You can read the Airmen Certification Standards for Remote Pilot Certification and Recurrent Knowledge Test (PDF).