Upwork, Fiverr, Guru, Loom, so many options for business owners looking for freelancers.
The question is, however, should businesses trust a self-employed freelancer or a well-established marketing agency when deciding which entity to use for their marketing campaign?
The reality is that freelancers are everywhere, thanks to individual websites, getting access to a freelancer takes nothing more than just a few quick clicks and payment upfront.
Rightfully so, there are always two sides to each coin, and with that in mind, it's time to tackle the pros and cons of hiring a freelancer, v.s hiring an agency.
Pros of Hiring a Freelancer
When it comes down to it, there are two main pros of hiring a freelancer,
Cheap

Specialized
Essentially, freelancers are meant to be less costly as opposed to a fully functioning agency, and this is mainly because hiring a freelancer means hiring a single person. Comparatively. If you were to hire an agency, you would be hiring a team of individuals working as a cohesive unit.
This, of course, means that if you're on a tight budget freelancers may be far cheaper.
Also, freelancers have typically outsourced workers who are specialized in a particular field. These fields can range from web design all the way to SEO and lead generation.
Since these freelancers usually opt for one specialty, they are typically capable of performing that particular craft a lot better than most.
Cons of Hiring a Freelancer
The main disadvantages of a freelancer are as follows,
Reliability

Quality of work

Hiring process
So firstly, reliability is a vast area of concern for freelancers that businesses should consider. Essentially, freelancers being self-employed, are very likely to be inconsistent with their deadline. If a freelancer becomes ill, goes on vacation or has an emergency, because they are the only one working on your project, your goals as a business may end up being delayed or even rendered, null and void.
Furthermore, freelancers also tend to vary quite a bit when it comes to the quality of work. Considering that freelancers are outsourced, the quality of work may differ on a case by case basis. This means that projects can be done either exceptionally well or extremely bad.
Thirdly, the hiring process of a freelancer may take a long time. Because unlike an agency that may have a substantial portfolio, hiring a freelancer may require you to go through a tedious interview process to differentiate between potential employees.
Pros of Hiring a Marketing Agency
The main advantages of hiring an agency include:
You get a lot more than just marketing expertise for one fee.
An outside firm offers more than just marketing. When hiring a marketing agency, you get access to expert content writers, search engine optimization professionals, social media professionals, graphic designers, and web design professionals as well.
It can be risky to take a gamble on a new hire. Good help is extremely hard to find, and it can take a long time to find truly passionate, dependable, skilled people to work for your business.
If your company has the capacity to recruit, hire, and train strong employees for your in-house marketing team, then in-house marketers can be a good option. And since marketers nowadays often have a wide variety of skills, you can find employees that cover all of your marketing needs in a small team if you take the time to find the right people.
But when you outsource your marketing, you get to skip the hassle of interviewing individual marketers and just spend time hiring 1 agency, who will do the hard work of hiring and training of their team members.
You don't have to pay a marketer's full-time salary.
Salaries for mid-career marketing professionals can be quite expensive, and they're increasing every year. From 2016 to 2017, the average salary of a Director of Marketing increased by 17%, and the average salary of a Content Strategist increased by 40%.
Hiring an agency means you have a whole team rather than an individual. Marketing Agencies have talented teams to help deliver results for clients. The final project will be a better standard and more polished than if you were to hire a group of freelancers.
In addition to having the support of an entire team, another benefit of hiring a Marketing agency is that, if there is an issue, an agency that has a large group can work together to solve the problem as soon as possible.
With that, Finding a good agency also means that your end results will be okay. In fact, you might end up building a long-term work relationship with them which inevitably, will help secure more future projects.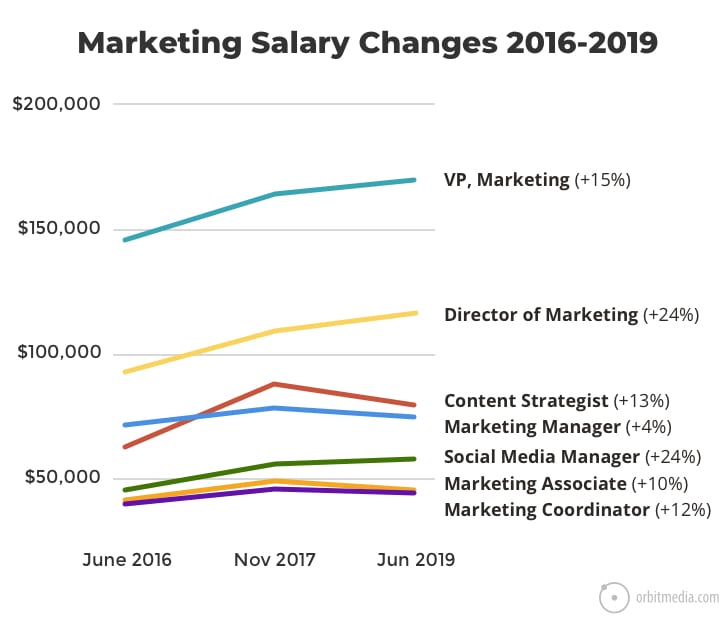 You gain access to the latest technology and tools.
Having the right marketing tools on hand can increase efficiency, productivity, and performance. Sure, there are tools you can dig up for free if you know where to look. But hiring a marketing agency gives you access to premium-level services, software, and analytical data reports without charge.
You maintain efficiency among your existing staff.
Some companies try to get around hiring in-house marketers, social media personnel, content writers, and SEO people by just having existing employees pick up the slack. But dumping the marketing burden onto existing employees increases the likelihood of burnout and reduces productivity in the long run.
In addition, your marketing efforts will lack consistency with so many people involved, especially since this haphazard approach often comes without a strategy.
Luckily, digital marketing agencies can help you develop that strategy to ensure you're making the most of your marketing efforts. You can then either implement the strategy in-house, depending on the availability and skill of your current employees or hire a digital agency to manage it for you.
You don't need to train agencies.
When hiring a marketing agency, you won't need to send employees to an extensive training program, pay for them to attend a seminar, or pay a senior marketer to groom a new employee in the art of digital marketing. Any reputable marketing agency will arrive qualified, experienced, knowledgeable, and ready to work for you.
Marketing agencies come with a track record of results. Plus, marketing agencies are used to taking on new clients. Although any new hire or agency will take time to get to know the specific needs and quirks of your business, an agency takes on new clients all the time, whereas an employee might only switch jobs every few years.
In addition, it's possible to maintain a longer relationship with an agency. You can invest time and money in training an employee, but after a couple of years, they may decide it's time for a change in their career. When hiring a marketing agency, you can keep working with them for years and years. Even if members of the team change, the agency will be responsible for getting new team members up to speed on your account – not you.
You can easily scale up your marketing efforts.
Under a traditional in-house operation, the only way you can increase the output of your marketing team is to hire more employees.
But marketing agencies already have an arsenal of workers on hand that can be called upon at a moment's notice if you want to employ a bigger, bolder strategy.
Plus, agencies have the experience to help you scale faster. If you want to try Facebook Ads for the first time, for example, you don't need to pay for one of your employees to take an online course or hire someone new. Your digital marketing agency should be able to adapt to your needs and help you with all of your marketing needs as you grow.

You keep up with the latest marketing trends, without a learning curve.
What in-house marketer has time to read up on all the latest social media, SEO, content marketing, and branding news? Usually, they are so buried in day-to-day tasks, there is no room to grow, change, and evolve.
The majority of reputable digital marketing agencies take education very seriously. They should invest time in keeping abreast of the latest trends, tools, technologies, and strategies to serve you better, spending their own time learning how to use new resources, without charging you for their time.
You benefit from an outside perspective.
It's easy to get tunnel-vision working from the inside. Employees may find it hard to express new ideas or bring up concerns, for fear of losing their jobs.
The saying "2 heads are better than one" is definitely true when it comes to marketing. A digital marketing agency is trained to look at your business from the consumer or client's point of view and brings years of knowing "what works" to the proverbial table.
Cons of Hiring a Marketing Agency
The main drawbacks of hiring an agency include,
Cost
Location
Essentially, agencies will cost more than hiring a freelancer (unless of course, you have to employ multiple freelancers to do a project).
Despite this, however, the quality of work will most likely be on par with what you're paying. In essence, it is a trade-off that ends up working in your favor.
Secondly, the location may also be an issue when hiring an agency. If an in-person meeting is required, you may have to go to the agency's headquarters. This may be far or close to you depending on where you live.
Once again, however, one can argue that hiring a freelancer is no better since they could be on the other side of the world. Either way, location is still important to consider.
Ultimately, at Sooner Marketing Solutions we make sure to do everything in our power to help you become successful and convert viewers into sales.
Our agency is well established and fully capable of providing whatever services you may need. If you're interested in taking your business to the next level contact us today and let us tell your story.
The Bottom Line:
There is one huge reason why companies go through the expense and trouble of hiring an in-house marketing staff:
Keeping employees close to you means they know your brand inside-and-out, as no one from the outside can. They eat, sleep, breathe, and promote your corporate culture and work tirelessly for your company full-time. That level of knowledge and devotion is hard to match, no matter how good an outside firm maybe.
Luckily, it doesn't have to be an either-or choice. The ideal set up is to have at least one point person working internally who can collaborate with the outside marketing agency, getting the best of both worlds for the company.