Does anyone buy anything these days without reading *at least* a handful of customer reviews first?
The answer is no… or very few.
90%, actually – that's the percentage of consumers who read online reviews before visiting a business or purchasing a product.
It stands to reason….
People trust each other more than they trust companies.
But how can a company encourage current or former customers to leave reviews?
This post covers *a ton* of real-life examples of how companies have encouraged customer reviews for better credibility and conversion rates.
Before you dive into all these examples, here are a few free templates to help you along.
You'll find:
5 "Ask for a Review" Templates to help you communicate with your customers.
An Email Marketing Calendar to plan all your outgoing drip campaigns.
The Best Time to Send Email Kit to ensure you're emailing at optimal times.
Email Marketing Bundle to get your email marketing strategy in order.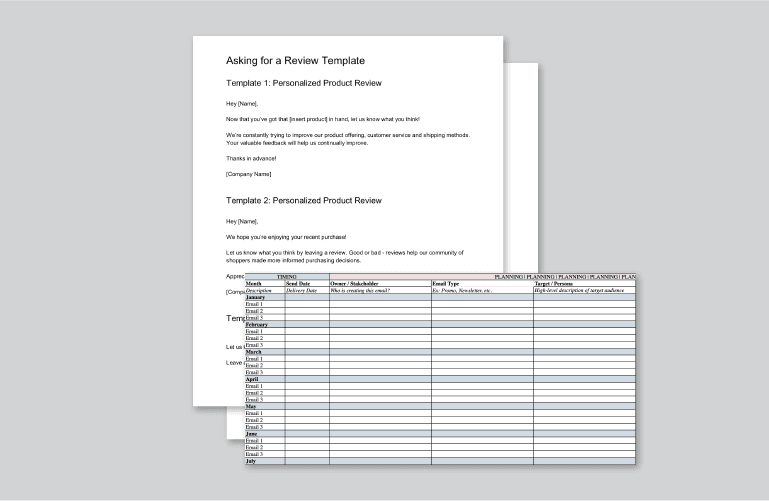 Reviews and the Customer Lifecycle
You've made a sale – which is awesome.
BUT, the sales funnel doesn't end when someone makes a purchase.
The customer lifecycle and funnel extends beyond the sale – where customers are made into loyal advocates.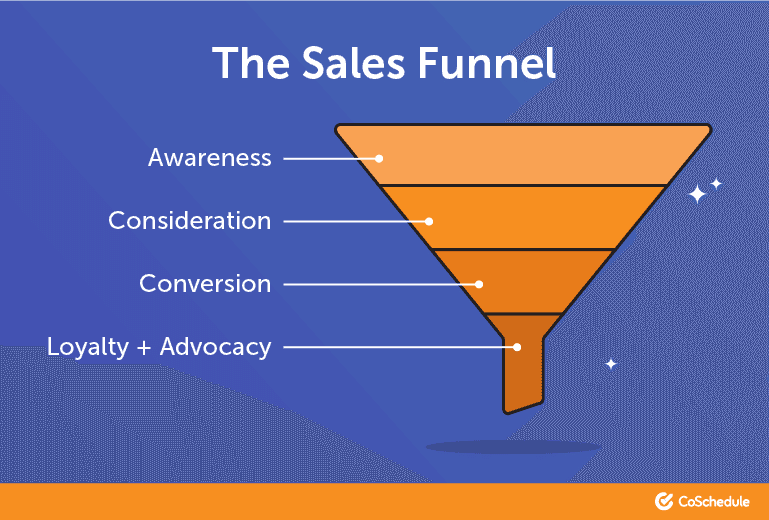 Great service makes for happy customers; happy customers leave reviews; customer reviews make for better product pages; better product pages make more sales.
It's one big circle.
So just sit back and wait for all those great reviews to come pouring in, right?
Well, you could…
OR
you could take a more proactive approach.
Post-purchase emails which encourage customer feedback play an important role in building loyalty and advocacy.
You may be wondering…
What's the best way to get someone to leave a review of your product?
How can I find some examples of what other companies do?
Are there different approaches to this and is one better than the other?
I got you.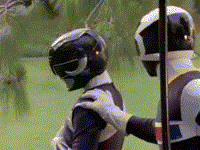 This post contains 20 real-life examples of how to ask customers to leave a review… so you can decide what approach you want to try and how to layout your email for the best results.
Reviewing the Product or the Company
This first thing you'll want to consider when asking someone to leave a review is if you want them to review the product they purchased or your company as a whole.
You will likely want to choose the individual product if…
You're selling on an external site like Amazon.
Your company sells many different products.
The item the customer purchased is a new release.
The products you sell aren't big-ticket items.
It's probably best to ask for a company review if…
Your company only sells a few products.
The products you sell are big-ticket items.
You're a new company.
Asking for a Product Review – Examples
Here are a handful of examples of companies that ask customers to review their products.
J. Crew
Here's a simple example of how to ask customers to leave reviews for products they recently purchased.
The company has a dynamic email that auto-populates with the recently purchased products. The customer can easily leave a review by simply clicking on the "share your thoughts" CTA.
What's good about this?
It's straight forward; no beating around the bush here. As a customer, you know exactly what the purpose of the email is.
It's easy to navigate. The links make it easy to navigate to the review page.
It's short. Review emails don't have to be lengthy. Do like J. Crew and keep them short and sweet.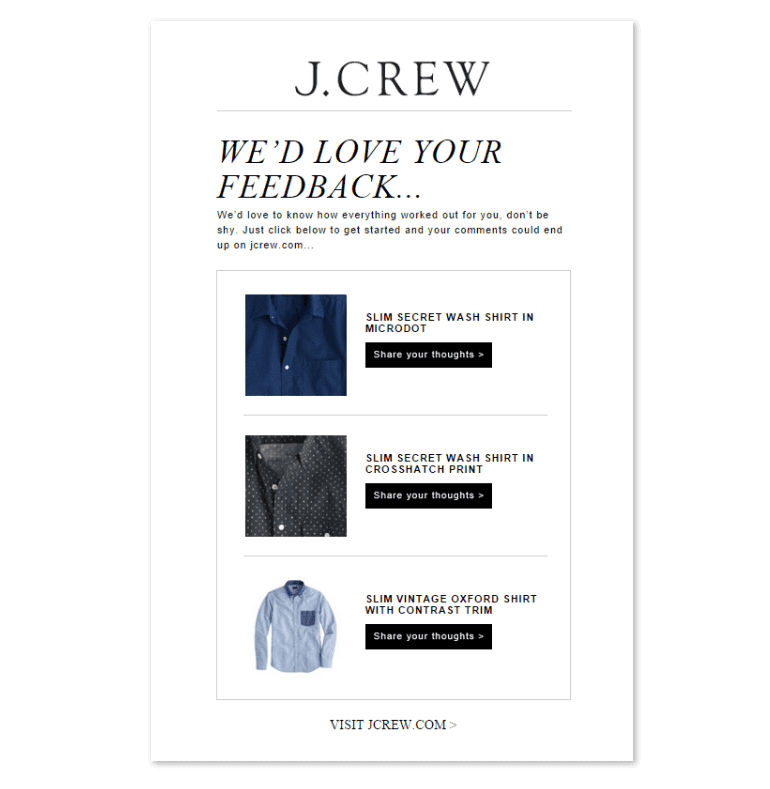 Barkbox
Subscription service, Barkbox, reaches out to customers to rate their most recent box.
The email is a good example of how to ask for a product rating when your company only offers one or two services.
Since the customer is receiving a curated box of products, Barkbox can use customer feedback to continually improve its offering.
What's good about this email?
Again, this is a very simple email that gets right to the point.
The scale rating makes it easy to rate the product without a ton of thought.
By allowing the customer to rate the product directly in the email, you can increase the likelihood of someone leaving a review.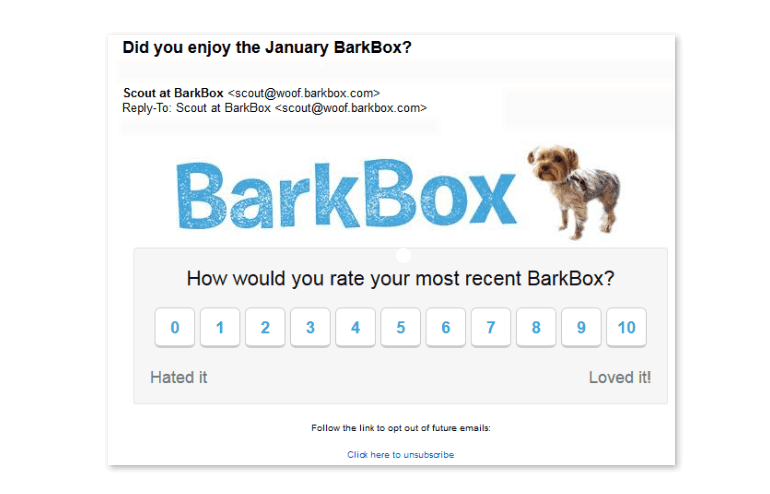 Crate & Barrel
Crate & Barrel takes it one step further by combining a review email with a plug for current promotions.
This makes sense since the individual has already purchased from the company, but it could also distract from the purpose of the email.
If you're going to insert a promotion into your review emails, make sure it is only one and it is included after the leave a review section.
What's good about this email?
The copy is clever and is a play on interior design.
Combines a promo to encourage further sales.
Takes you directly to the review page.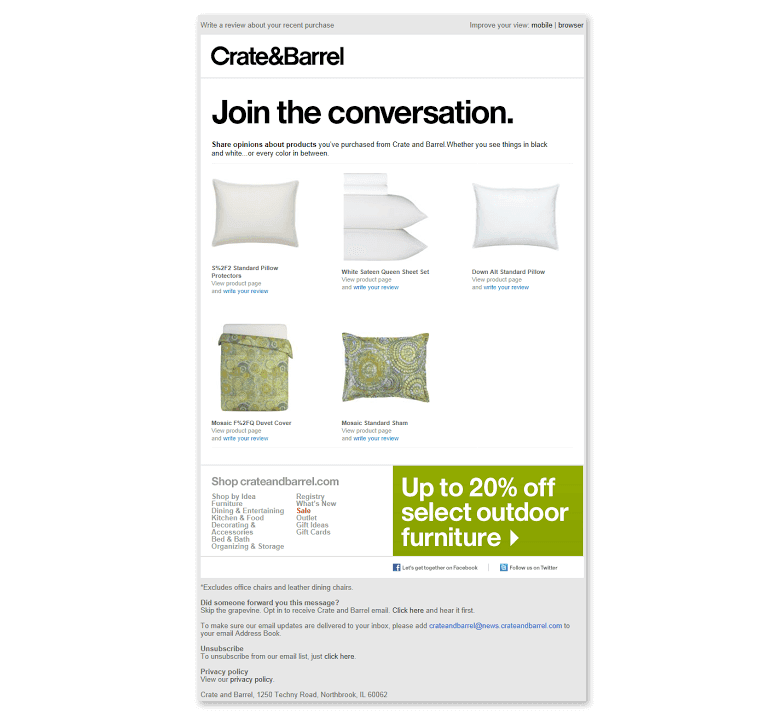 Gap
Gap takes a more personal approach by including a personalized intro paragraph. This takes a more indirect approach compared to some of the earlier examples, but it does a good job of making the reader feel like Gap's customer service cares about their opinion.
What's good about this email?
It's personalized.
The headline makes it clear what the company is asking for.
Includes the recent order number as a reminder.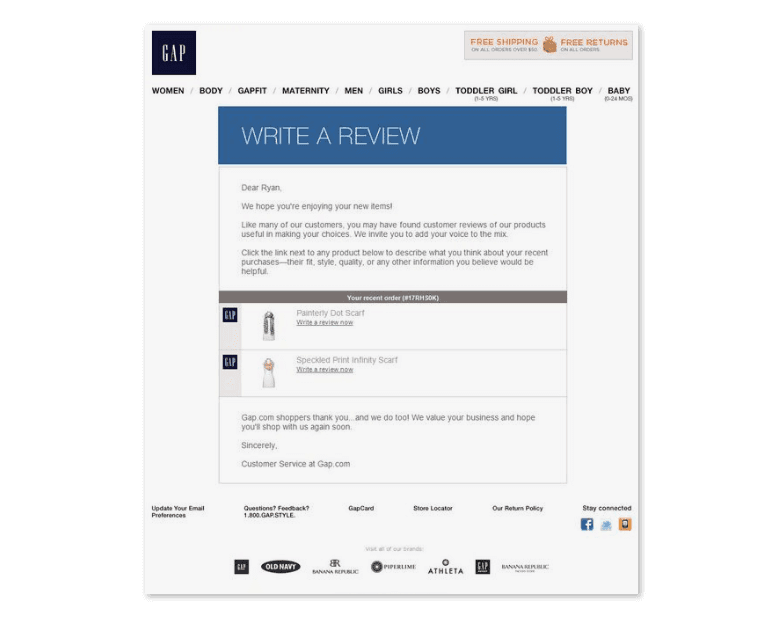 Etsy
Etsy's product review emails are written in a way to make it seem like there is a necessary task waiting for completion. The emails highlight the need for a review with a large, prominent CTA that stands out from the text.
What's good about this email?
The button is prominent.
The copy is compelling and makes the reader feel like there is something that still needs to be completed.
Includes a short sentence about why it's important to leave a review.
Under Armour
Here's another example that is very straight forward. The reader knows exactly what the company is asking for, but also why reviews are important to the company's mission.
What's good about this email?
The headline stands out in highlighted yellow.
The CTA's are clearly marked with large buttons.
The vertical layout makes it easy see each product available for review.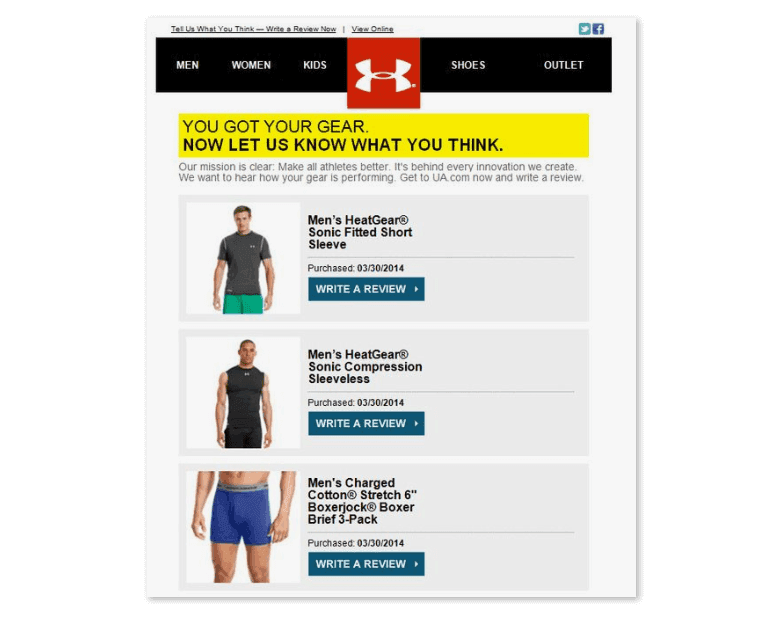 L'Occitane
French skincare brand, L'Occitane, combines both a personalized intro paragraph and easy to find CTA buttons to make sure the reader can easily navigate to the product review page.
What's good about this email?
It has a short personalized intro paragraph.
The vertical layout is easy-to-read.
There are buttons vs just linked text.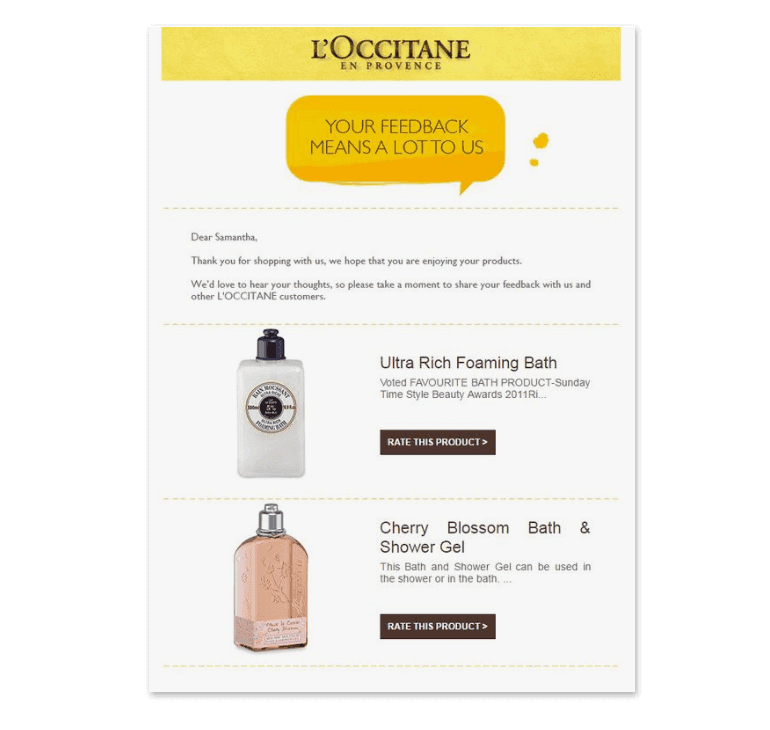 Sephora
Sephora has a truly unique way of collecting customer reviews. The company offers users a special area of their site called, My Beauty Bag. My Beauty Bag is a personalized area that collects the user's favorite products and organizes recent purchases as well as product reviews.
What's good about this email?
It informs the receiver of what My Beauty Bag is.
Has links to go directly to each product review.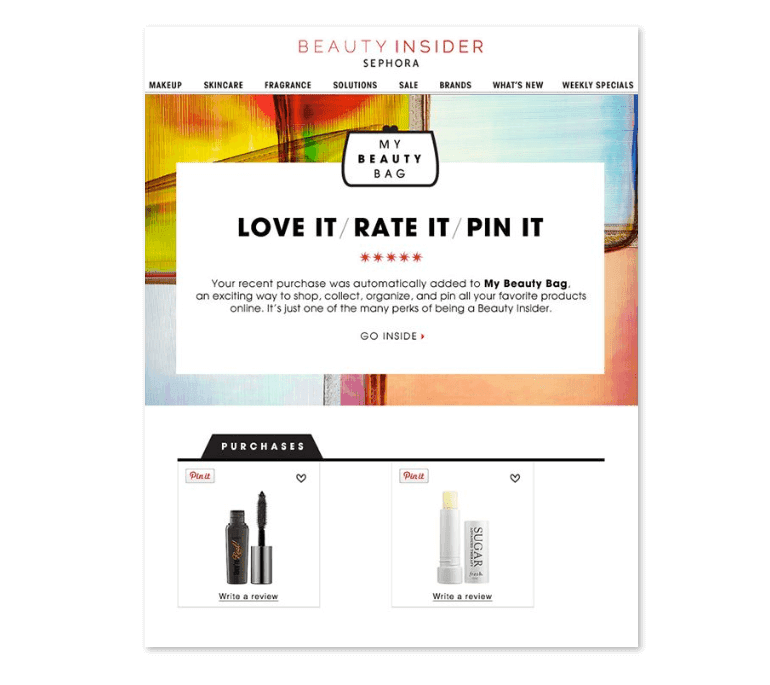 Michaels
Michaels' leave a review email is a fun play on arts and crafts and fits the company's brand perfectly.
What's great about this email?
The branding is on point for the company's product offering.
The copy offers a fun play on words.
The products are clearly laid out with an image and CTA.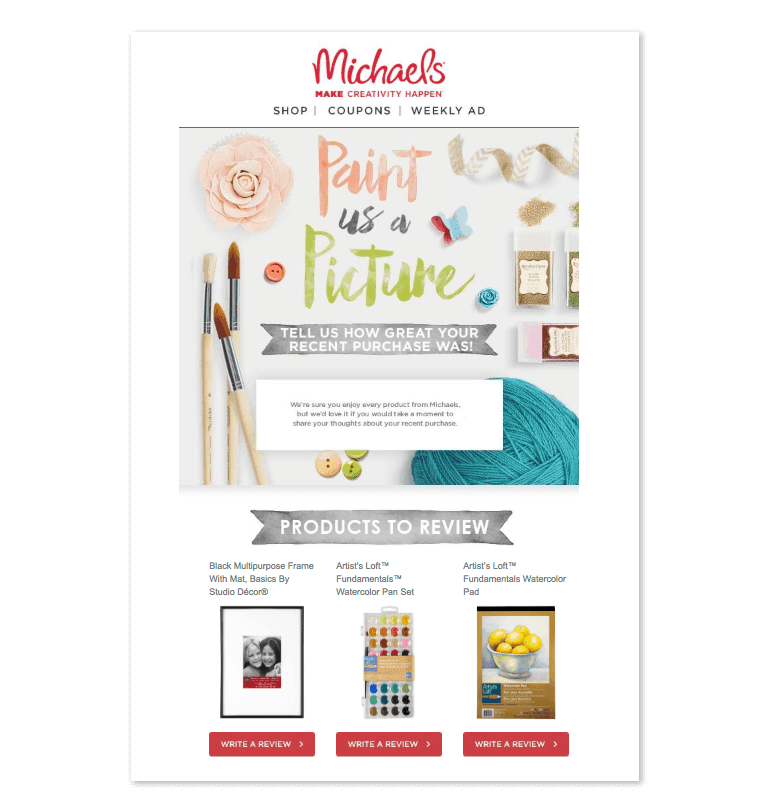 Society 6
Society 6 offers the ability to do the entire product review directly in the email. They make it easy by including the ability to leave a star rating for the product AND write your text comments without navigating away from the email.
They also highlight their Instagram hashtag to help the company curate user content.
What's good about this email?
Readers can leave a review without navigating away.
Incorporates its social media strategy.
Offers two different review styles.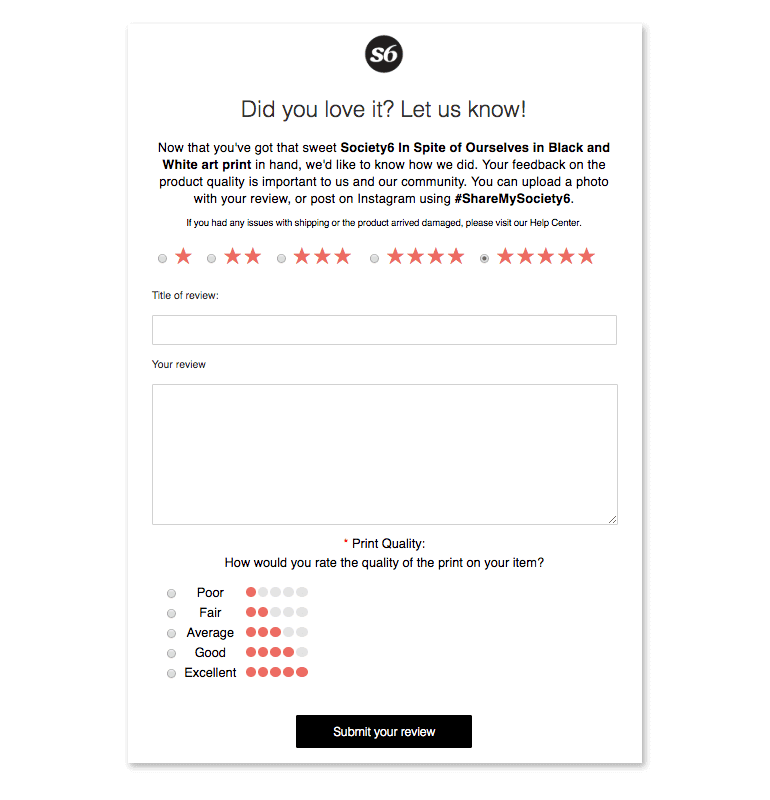 Target
Target's customer review email is a good mix of all the best elements listed above. It has a clear title that stands out from the rest of the text; It offers an easy-to-see star rating that can be done directly in the email, and a bold CTA if you want to leave a more in-depth review.
What's good about this email?
It's short and sweet.
The star rating makes it easy to rate without navigating out of the email client.
The headline and the CTA button stand out.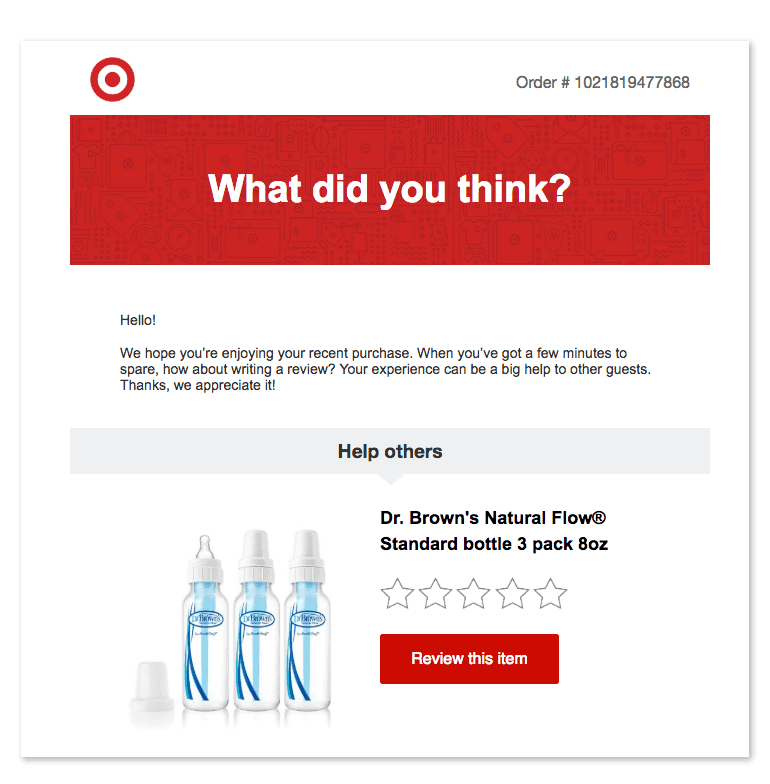 Asking for a Company Review – Examples
If your company is relatively new or only offers one or two products, it might be a better strategy to ask customers to review the company as a whole.
Here are a few examples of emails asking for company reviews.
PayPal
The results from PayPal's email won't likely end of on an external site, but it still offers a good example of how you can use customer reviews to adapt and improve your business.
This example embeds a simple 1 to 10 scale where customers can rate their experience with PayPal.
What's good about this email?
It's personalized.
It has an easy-to-use rating scale.
Explains what will happen after selecting a response.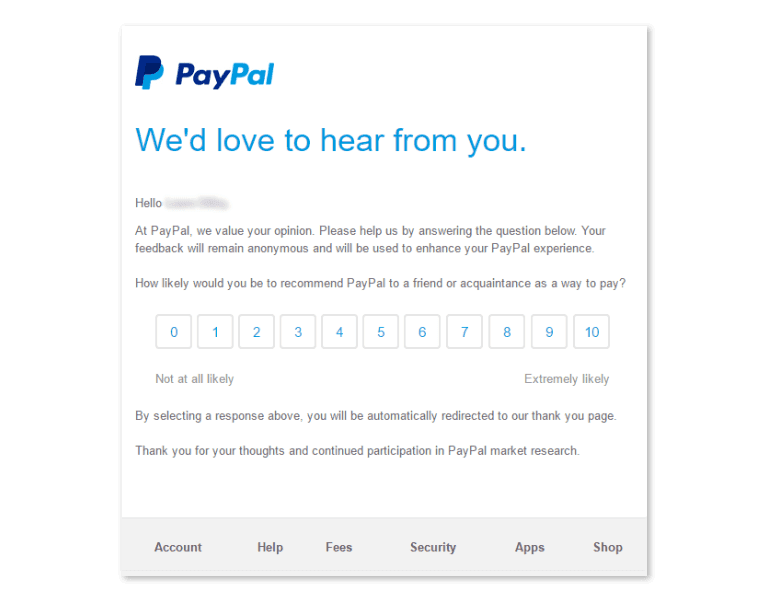 WhistleFish
WhistleFish's review email is a good example of how to ask for a company review. The email makes clear that they are not asking for a review of the products purchased. This is a smart way to set expectations and also ensure that the customer is writing a review that's fit for purpose.
What's good about this email?
They mention how long it will take the leave the review.
There are two CTA's.
The email is personalized and lays out that the company is asking for.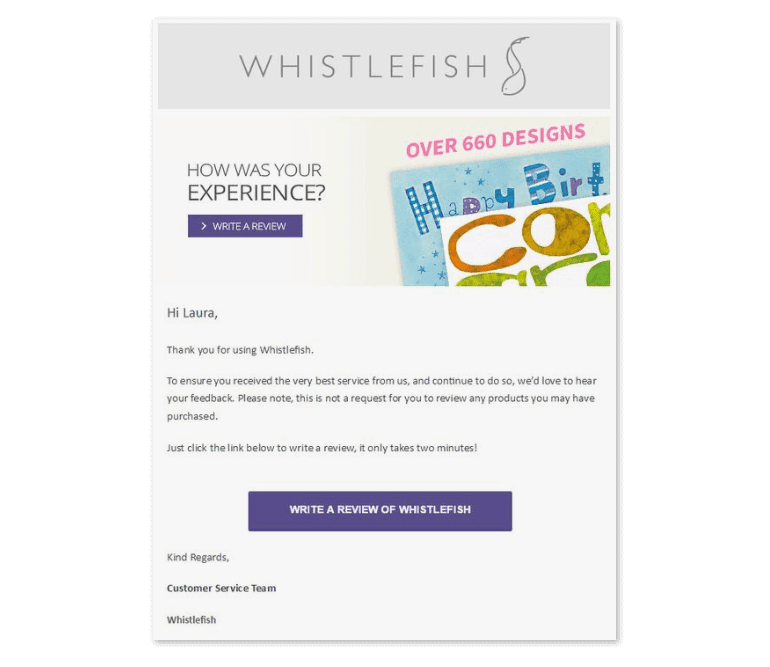 OpenTable
Although this email isn't sent from the restaurant themselves, this OpenTable example is a good one for the service industry.
OpenTable is essentially the Amazon of restaurant reservations, so reviews are an important element for their community of users.
What's good about this email?
Outlines the reservation details.
Has a clear CTA.
Offers a small photo of the restaurant to remind the reader of their experience.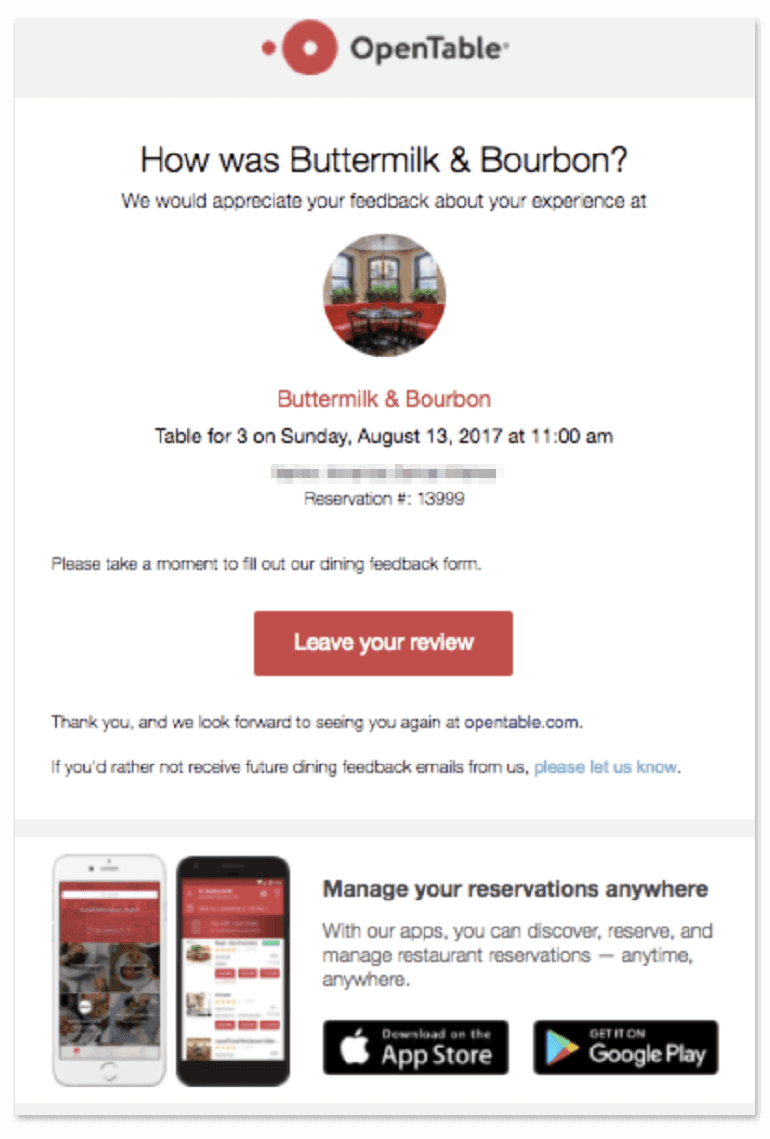 Incentivizing Customer Reviews
Some companies choose to incentivize reviews by offering either a discount on the next purchase or by placing the reviewer's name in a drawing for some type of prize.
This makes for an "I scratch your back, you scratch mine" scenario.
BUT, tread carefully here.
The FTC has some guidelines that regulate how companies can and cannot incentivize reviews.
Here's what they say…
"Suppose you meet someone who tells you about a great new product. She tells you it performs wonderfully and offers fantastic new features that nobody else has. Would that recommendation factor into your decision to buy the product? Probably.
Now suppose the person works for the company that sells the product – or has been paid by the company to tout the product. Would you want to know that when you're evaluating the endorser's glowing recommendation? You bet. That common-sense premise is at the heart of the Federal Trade Commission's (FTC) Endorsement Guides.
The Guides, at their core, reflect the basic truth-in-advertising principle that endorsements must be honest and not misleading. An endorsement must reflect the honest opinion of the endorser and can't be used to make a claim that the product's marketer couldn't legally make."
So if you choose to incentivize your customer reviews, make sure of the following elements:
The choice to leave a review must be optional.
If the endorsement is paid, it must be stated as such.
It's better to offer a discount or a chance to win than something free. If you choose to give something away for free in exchange for a review, you must reviewer must disclose this.
Incentivized Customer Review Examples
Here are a few examples of companies which offer something in exchange for a customer review.
Camera Ready Cosmetics
Camera Ready Cosmetics offers 10% off your next purchase in exchange for leaving a review.
The email is both personalized and offers the ability to leave a simple 1 through 5-star rating without navigating away from the email.
What's good about this email?
It's clear and to the point.
You can leave a review without leaving the email.
You receive 10% off the next purchase as a thank you.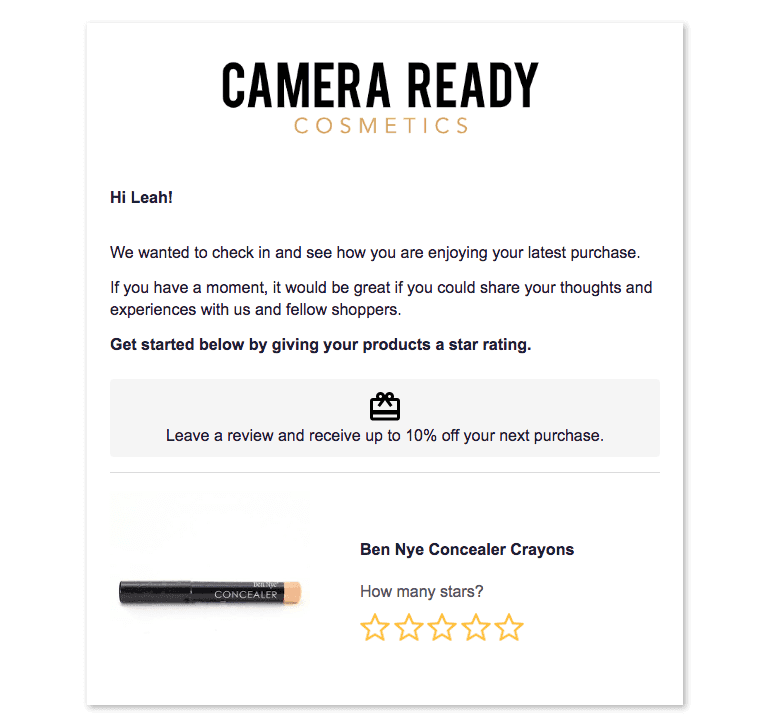 Boden
This email from Boden offers the chance to win £1,000 in exchange for an honest review. The company puts the offer front and center, followed by a summary of the products available for review.
What's good about this email?
The branding of the email is fun.
The company states it wants honest opinions.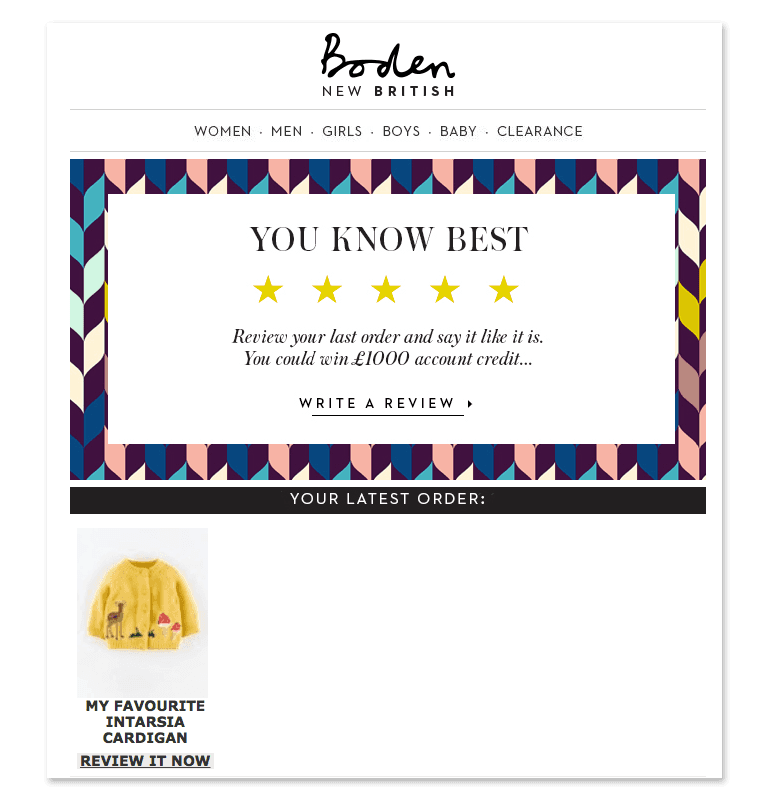 Tailor Brands
Tailor Brands offered a generous 50% off in exchange for leaving a review.
What's good about this email?
It's bright and colorful.
States how much time the review will take.
Has an engaging CTA – instead of the same old "Leave a Review" CTA.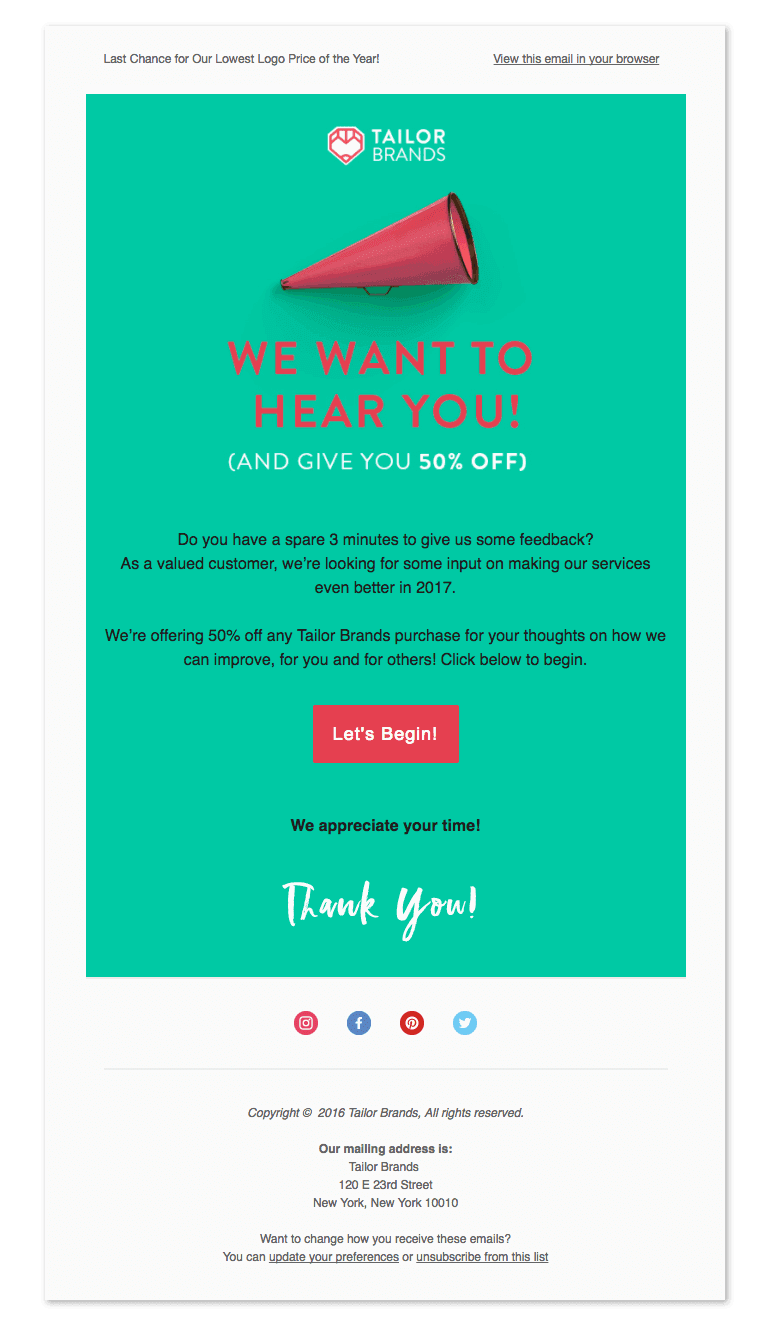 Macy's
Macy's offers another example of how you can hold a giveaway in exchange for a review. The company states that the reviewer will be entered for the chance to win a $1,000 Macy's gift card.
What's good about this email?
The copy isn't boring – it doesn't take itself too seriously.
It offers a link the content terms and conditions to learn more about what is required from the reviewer.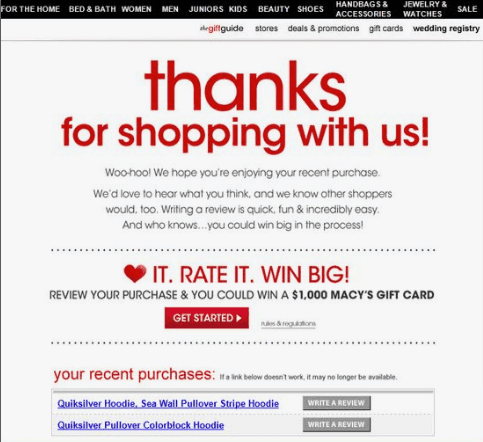 Anthropologie
This Anthropologie email isn't enquiring after the review of a specific product, but rather on the customer's preferences and style. The outcome of a review like this could help shape the company's product offering.
What's good about this email?
It states how long the review will take.
They offer a 15% discount in exchange for the reviewer's opinion.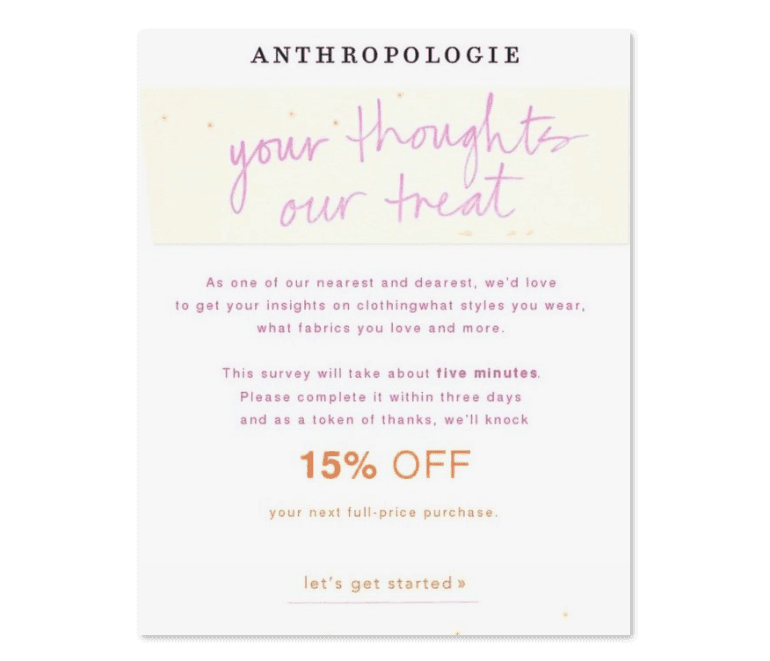 Land of Nod
The Land of Nod held a leave a review contest where reviewers could leave multiple reviews for the chance to win a $500 gift card.
What's good about this email?
The email spins it as a limited time contest, rather than just the average "enter to win" sweepstakes.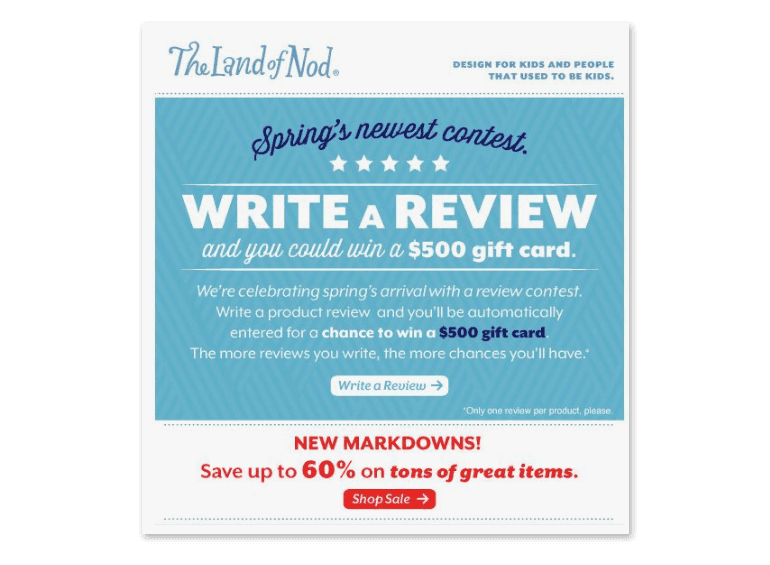 Tips For Asking Customers For Google Business Reviews
Now that you know just how important Google Reviews are, you may be wondering how to to get them.
The number one tip for getting Google Reviews is easier than you might think.
Have to ask – Yep, it's that simple. 70% of people will leave a review when asked.
Ask when your customer is the happiest. This may seem like a no-brainer, but a customer is much more likely to praise your business when he or she is still extremely happy with the experience. A happy customer may not leave such a great review weeks after the service is done. Don't let a beaming customer slip away without kindly asking them to leave a review.
Don't ask for 5 stars, just ask for feedback. No one likes being told what to do, and if you're begging for a 5-star review, you could leave a bad taste in your customer's mouth. Instead, tell customers you would really appreciate it if they could leave some feedback on their experience. They will feel much more inclined to compliment you in their own words and they won't feel forced, which could lead to negative reviews.
Explain how reviews benefit them. Although reviews benefit you, the business, they also benefit the customer. Tell customers how their review can help you improve their experience next time around.
How To Get More Facebook Reviews
Step 1: Encourage your visitors or customers to check in.
Step 2: Facebook will send them a reminder to write a review (usually a day later)
Step 3: Your customer will (hopefully) review your business. After all, they just checked in, so there is positive affinity with your business already!
It's as easy as that!
How To Ask For Check-Ins On Facebook
Most people will check in because they love you but human nature is such that we also can benefit from a gentle reminder. Don't be afraid to remind them that you would love them to check in!
It may help to offer some incentive such as:
asking them to check in for access to your WiFi password.
giving them a free upgrade – maybe a larger coffee.
offering a small discount or voucher if they check in.
But in reality, people check in because they want their friends to know about it. That should be incentive enough but a verbal reminder or sign at your place of business may help to ensure they do it when on location at your business.
Let me know if it works for you!
If it doesn't work for you, don't worry, because:
1 It's still worth encouraging check-ins as above because when someone checks in, their friends are shown the activity on their newsfeeds. Free marketing, right?
2 There are still some easy ways for you to encourage Facebook Reviews:
How To Ask For Recommendations On Facebook
If the "check-in hack" doesn't work then here are a few ways you can ask for Facebook Reviews:
Ask for Facebook Reviews via email if you have an interactive, nurturing email marketing strategy. This is especially effective if you have a physical place of business as you can send them an email after they purchase or join your email list. Remember to include the link to your Facebook Page.
Put up physical signs and reminders in your place of business – about Checking In and/or Facebook Reviews.
If you are going to ask – either verbally or otherwise, make it clear that it is a choice. Say something like "Love us? We'd love your Facebook Review".
Be careful about offering incentives for Facebook Reviews. There are often regulations in different countries for incentivizing reviews and it may not be allowed. Please check your own country and local region for what you can and can't do. Remember, check-ins are easier to request.
Offer something small in return for a check-in such as free wi-fi or a coffee upgrade or discount off your product or services.
Ensure you respond to every review. If someone takes the time to review your business, give them the decency of a response. And if it is a negative review (though we hope it isn't) then take the time to address their concerns. Remember, they may not necessarily be right, but they do want to be heard. Let them know you are listening.
Last but not least, canvas reviews!
Jim Glover Chrysler Jeep Dodge Ram in Owasso, Oklahoma printed out on canvas and hung on the walls some reviews their customers have submitted online. I think this is a genius idea! Not only does it give off this nice reminder that I'm in the right place and I can trust the business a little more, but it also makes me want to leave a review for them online. You might try this in your business, let us know if you need some help!


Knock Those Reviews (and Every Other Project) Out of the Park
Now that you've seen a ton of different examples of how various companies ask their customers for reviews, you can decide for yourself what's the best way.
But before you do…
Make sure you're not bombarding your customers with too many emails.
With Sooner Marketing Solutions, you can feel confident that all of your marketing projects, email campaigns, and social media is being performed and monitored.
Schedule a consult today to see how you can get your very own dedicated marketing team!