One of the most frequently asked questions in the business circle is "How do I generate Google reviews for my businesses?" Business owners understand the power of search engines in influencing today's business decisions, so, they always want to leverage its potential to drive more conversions.
There's no doubting the fact that genuine online reviews from satisfied clients have the power to increase visibility and clicks from search engine traffic, especially when it is frequent.
The truth is that most of your target customers would rely on recommendations from friends and family, before making their purchase decision.
Well, they don't mind trusting the reviews and feedbacks of strangers as they move to make online purchases. Certainly, online reviews have their way of building and sustaining trust, so you want to be sure that your customers are saying good things about you on Google, Facebook, Yelp and every other public platform because it matters.
As important as online reviews may be in the conversion process, customers still need that little nudge before they drop reviews for the products or services they purchase.
For this reason and many more, you would be doing your business a lot of good by including review generation and response management in your marketing process. Here in this post, we will be taking you through a detailed ride on how you can get more Google reviews for your business as well as how review sites improve the visibility of your business on Google and a few tips for asking customers for Google business reviews.
Why Google Reviews are Important For Your Business
It's always been a useful exercise to get reviews from your clients, but its importance seems to have toppled in recent years.
We've seen three significant areas where business owners stand to benefit from reviews; First, they can get testimonials that can be channeled for marketing purposes: Second, it helps business owners to understand what aspects they are doing correctly and where they can improve: third, it helps to enhance business visibility on Google.
Talking about gaining business visibility, we've seen over the years that the accumulation of genuine review for business products and services is becoming more and more important. As a business owner, you should not at any point underrated the power of review data, even if it seems like you've got the elements covered in your local search strategy.
To start with, a customer review is one of the most powerful tools at your disposal for influencing potential customers. Think of it this way; I may not believe you if you told me you could drive, but if somebody else does, I would be more inclined to accept. In fact, a series of researches have constantly pointed to the fact that there is no purchase influencer as powerful as customer reviews. One study, for instance, showed that more than 88% of online buyers check reviews before concluding on what to purchase.
One argument critics of online review solicitation have raised continuously is the concern for bad reviews. Well, bad reviews are not something you can completely eradicate, but in all honesty, bad reviews are not necessarily as bad as a lot of these people make it look.
Most potential customers will be worried if they don't see a single bad review among the flood of good reviews on your website. However, they would be more convinced that you care about your clients when they see that you actively reply to bad reviews by showing that you are looking for ways to resolve the issues they have. One research pointed to the fact that bad reviews have the power to increase the rate of conversion by up to 67%.
The question on the lips of most business owners now is why testimonials are highly needed in SEO strategy. Google is always after upgrades that will help them deliver highly relevant results to searchers, so they are not only concerned with what your business does, but they also want to know how clients perceive your business. One significant way to achieve this is by taking a look at the number of reviews you have and how your products or services are rated.
10% – Reviews impact on your Google local ranking chances
15% – External location signals impact on your Google local ranking chances
18% – Link signals impact on your Google local ranking chances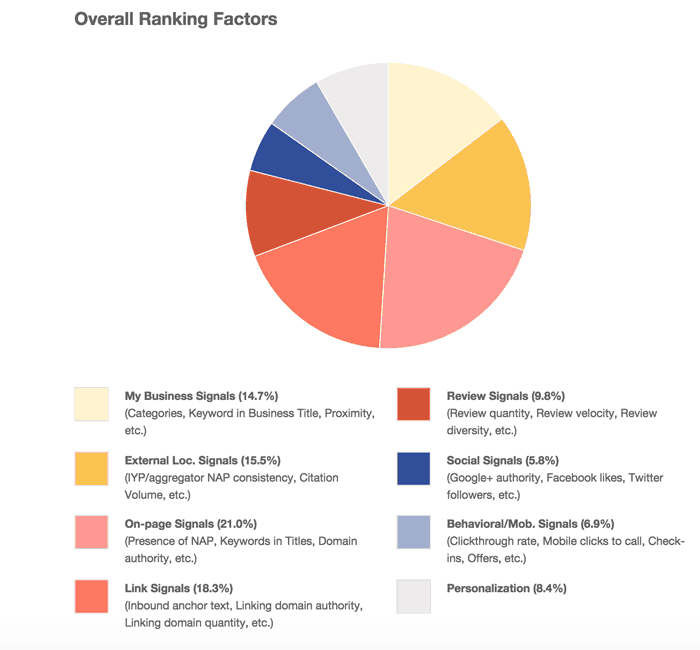 Tips For Asking Customers For Google Business Reviews
Like we've stated earlier, there are great steps that can be taken to make the process of requesting Google review from customers easier. Here, take a look at some tips that could help.
Get The Timing Right
There has always been the question of what time is perfect for asking for a review, and it all boils down to knowing the point when it is not too late and not too early. If you rush too much into it, then there's a possibility that you will meet your customer when they are yet to get a grasp of the full benefits that your product offer. If you ask too late on the other hand, then you may meet them when the initial sense of satisfaction is fading away.
Make the Process Easier
This one sounds obviously like a no-brainer, but we've seen businesses fail woefully in trying to make the process of leaving review easier for the customers. Don't just focus on encouraging clients to leave feedback, but try actually to show them how they can go about it.
Email Marketing Integration
As a business that runs email marketing campaigns, you would be missing a lot of opportunities if you fail to utilize the campaign for asking customers for reviews. Use this medium to ask your clients what they think of your products and mildly persuade them to leave a review if they loved it.
Ways To Get People To Your Google Business Page
It is not just enough to create a Google business page; the fact remains that your profile is as powerful as you make it, so if you don't put any work into it, then it may just be as good as not having one. Below, we've listed a few things to do to get people to your Google business page.
Get the Google My Business App
Until you begin to view your Google profile as a living extension of your business, you may likely not make progress with your efforts. Thankfully, you can now download its app, so there would be no need wasting time on your computer when you need to make updates or minor changes on your profile. The app makes it easier to post statuses, add pictures, and respond to reviews.
Persuade Your Customers Where Possible to Drop Reviews.
Don't just stop at getting them to drop reviews, try as much as possible to respond to them. We already explained earlier that businesses with more positive reviews have better chances of pushing up search result ranking.
Upload very clean photos
You probably already know that photos sell, but for your photos to sell in this regard, they have to be as clean as possible.
With reviews being made more powerful by the day, businesses are already relying on it to help them rank higher on search results, as well as encourage conversion. You will be doing your business good by understanding everything there is to it before jumping on this trend because it is only when you apply the right strategies that you can expect it to work for you.
Tips For Asking Customers For Google Business Reviews
Now that you know just how important Google Reviews are, you may be wondering how to to get them.
The number one tip for getting Google Reviews is easier than you might think.
Have to ask – Yep, it's that simple. 70% of people will leave a review when asked.
Ask when your customer is the happiest. This may seem like a no-brainer, but a customer is much more likely to praise your business when he or she is still extremely happy with the experience. A happy customer may not leave such a great review weeks after the service is done. Don't let a beaming customer slip away without kindly asking them to leave a review.
Don't ask for 5 stars, just ask for feedback. No one likes being told what to do, and if you're begging for a 5-star review, you could leave a bad taste in your customer's mouth. Instead, tell customers you would really appreciate it if they could leave some feedback on their experience. They will feel much more inclined to compliment you in their own words and they won't feel forced, which could lead to negative reviews.
Explain how reviews benefit them. Although reviews benefit you, the business, they also benefit the customer. Tell customers how their review can help you improve their experience next time around.
Ways To Get People To Your Google Business Page
So now that you know how much Google Reviews matter and you've brushed off the nerves about asking customers to leave a review, there's only one part left to skyrocketing your online visibility.
You've got to get those people to your Google Business Page! They can't leave you a review if they don't know how to do it. Here are some great ways to help bring people right to where you want them: your Google Business Page.
Email Method
When to use it: After appointments, service, or annually
How often: After each appointment, service, or annually
How to do it: The best way to use the email method for getting Google Reviews is to use an online review management service like Broadly. Broadly sends a follow-up email asking how the customer's experience was, then the good reviews are pushed to your Google Business Page so it can appear there. The bad reviews are sent to your customer service department so you can help resolve them. A bonus is this system is automated, so you save tons of time.
Direct URL Method
When to use it: With any printed materials such as invoices, direct mailers, business cards, etc.
How often: After each appointment, service, or annually
How to do it: You will want to create a direct URL for your customers to go to. Google has all the steps to do so right here. Once you've created that unique link, you will want to shorten it to make it easier for customers to use it. Just copy and paste it in the designated space here, and it will automatically shorten. Using the Google link shortener also gives you insight as to how many times your link was clicked.
Review Page On Your Website
When to use it: It's always there for your customers to leave a review.
How often: This is up to the customers when they want to use it, but having a place is helpful.
How to do it: To give customers the option to leave a review whenever they want, simply create a new page on your website listing all the places you would like to receive reviews. Popular options include Yelp profile, Facebook, and Google. Just make sure the links to the review pages are as direct as possible—you don't want your customer clicking the link then aimlessly trying to find the place where they can leave a review. Link directly to the page where they can leave the review. You want to make it as easy as possible to receive feedback!
How to Link Directly To Your Google Business Page
With all this advice suggesting you link to your Google Business Page, you may be curious as to how exactly to do that. Here are the steps for you to grab your Google Business Page link for people to leave reviews.
Step 1. Google your company name
You will see your company pop up on the right-hand side.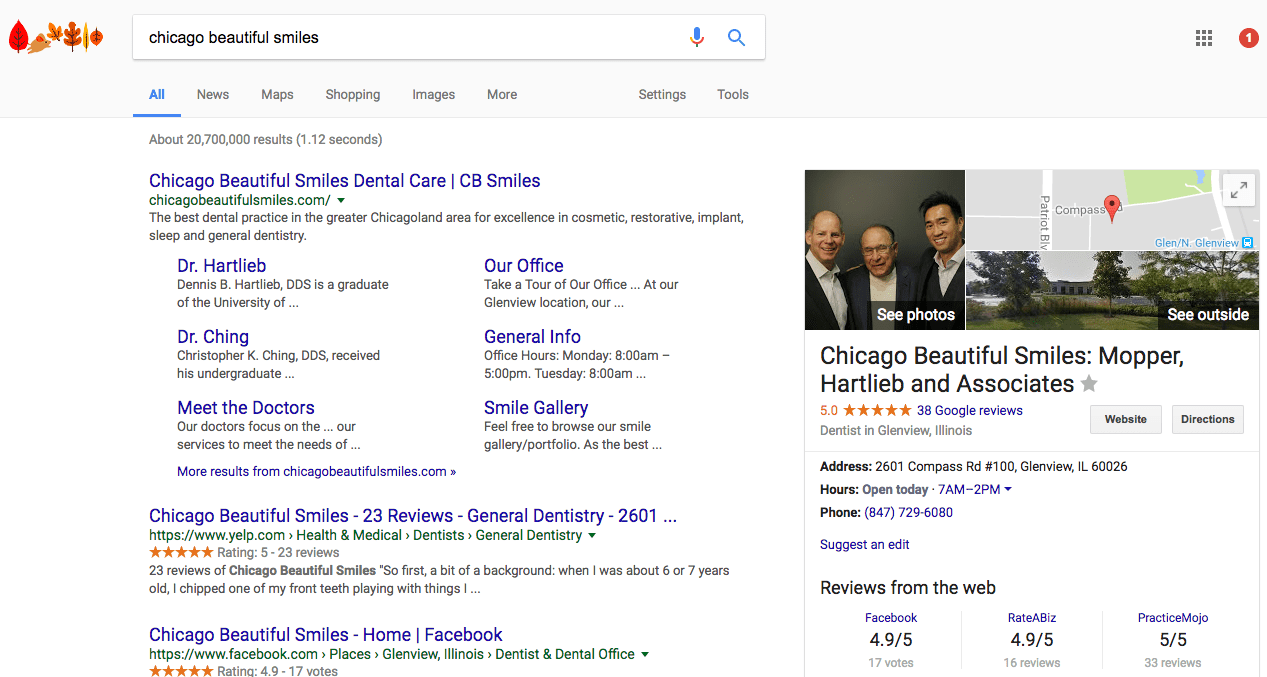 2. Click "Write a Review" Button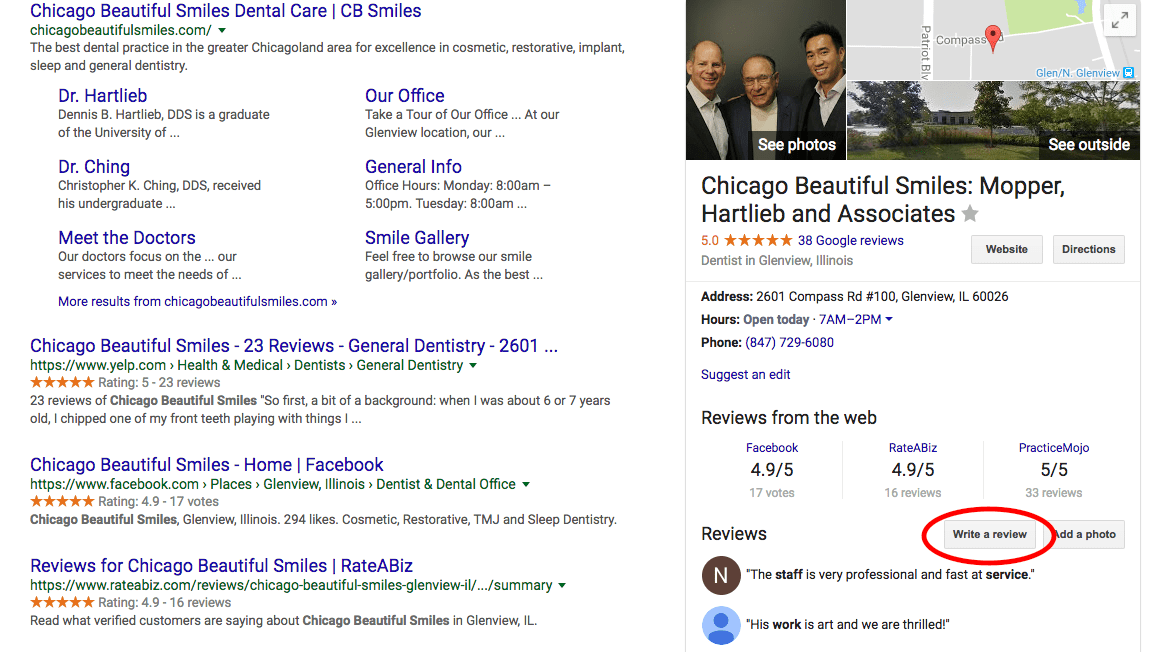 3. Copy the URL that appears
Upon clicking "Write a Review," a Google review box will appear. Copy the URL from that page's address bar.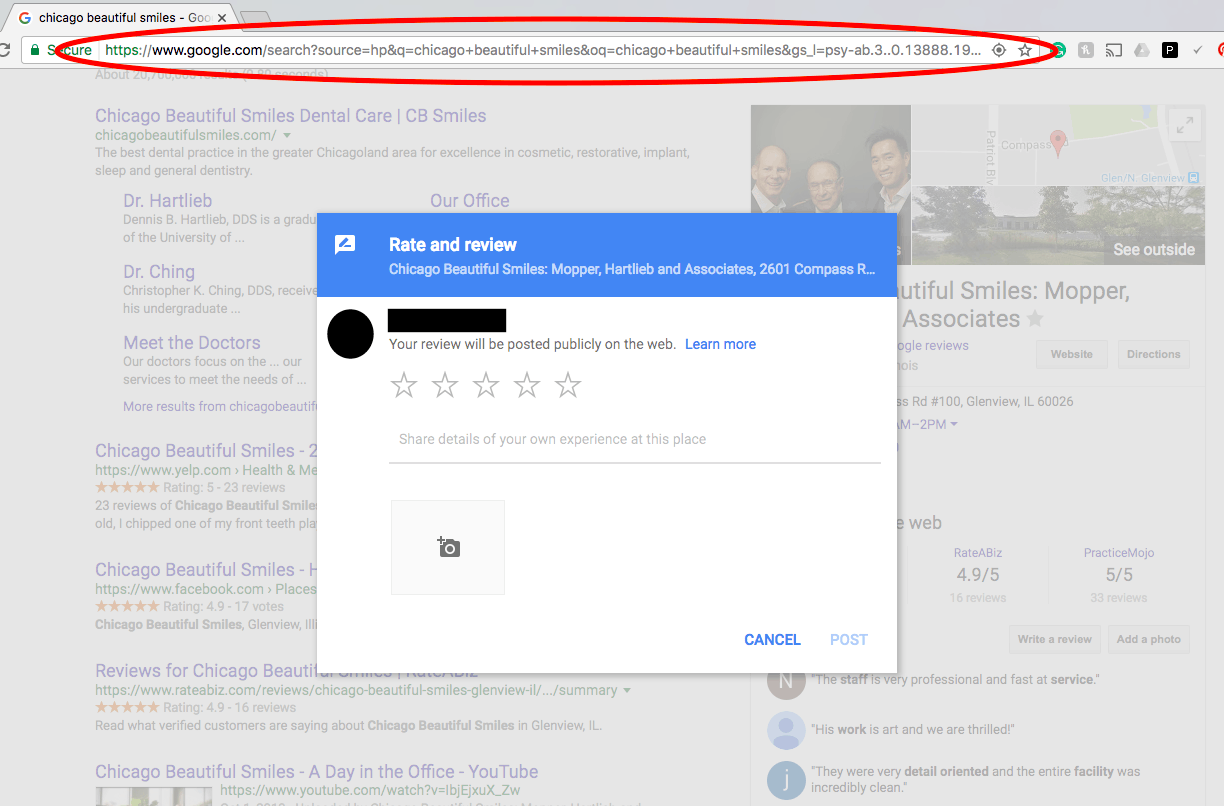 4. Setting URL for 5 Star Review
Now, the URL you have should be very long and confusing!
Ending with something that looks like the following
,3,,
The only thing we are concerned with is that final number 3 and the commas surrounding it. The 3 is the part that prompts the review box to open. If you replace the 3 with a 1, for example, it will instead open a pop-up window that shows all your reviews. But what we want to do is leave the 3 there, then add a 5 in between those last two commas like this:
,3,5,
Now, not only will the review box pop up, but the stars will automatically start at 5 stars. This makes it super easy for customers to rate you as high as possible!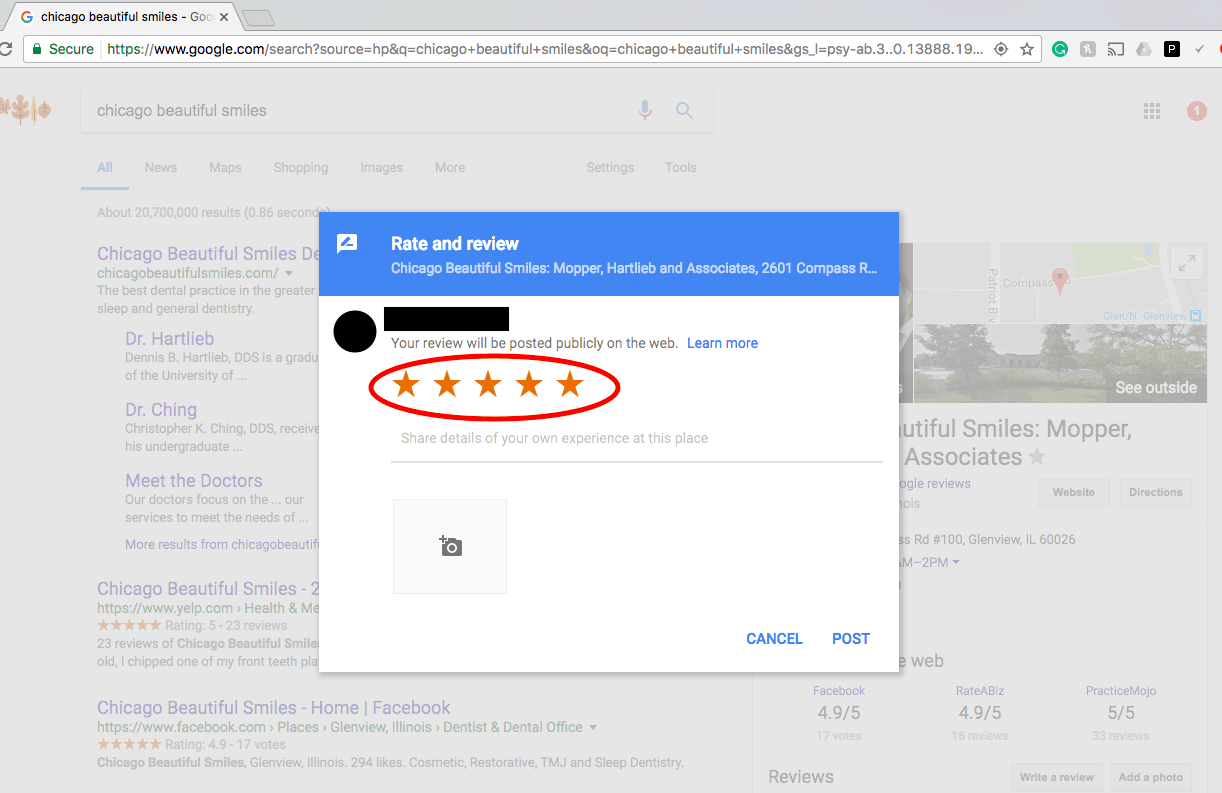 5. Shorten the URL
As you may have noticed, the URL you get is pretty long. To clean this up a bit, just follow the steps in the Direct URL method above, where you enter the long URL into Google's link shortener, //goo.gl/. Once you get your nice little URL, you are ready to start sending it to clients!
Ready to Get More Google Reviews?
The strategies outlined above are some of the top ways you can start getting more reviews online.